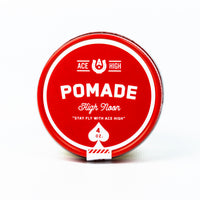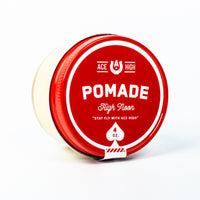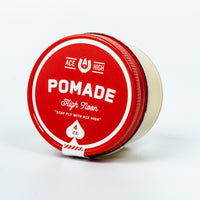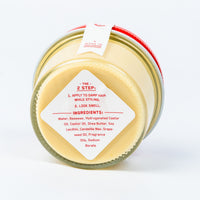 Ace High Co - High Noon Pomade
You asked - Ace High delivered. Ace High's Original Pomade formula, now featuring a different scent! Imagine an old-school cologne, fresh out of the shower, clean, crisp, look-good/feel-good kind of scent. Old school, classic, but clean as hell. You won't regret it.
Quick Facts
 Water-based
 Medium shine
 Medium hold, remains pliable
 Works in all hair types
 4 0z. glass jar
 Our spin on the classic barber shop scent
 All natural ingredients
 Handmade in Rochester, MI, USA
Application Technique: The Two-Step
 Apply to damp hair while styling
 Look swell
Pro tip: Use a blow-dryer while styling for additional volume and hold in straight hair.
Our Philosophy
Ace High pomade was born from personal frustrations with other products on the market. Nate began putting together small batches of natural ingredients in search of a water-based pomade with noticeable shine and a pliable, medium hold. The final result is nothing like you've ever seen before. Our original pomade has the consistency of a lotion, but after a quick rub between your hands, it shows its true holding abilities, and your hair will stay fly for the rest of the day (and well into the next, if you don't wash it out). Are you ready to stay fly with Ace High? Pick up a jar today!