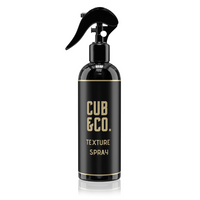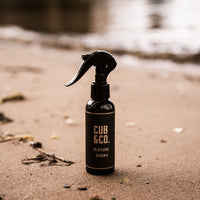 Cub & Co. Texture Spray is carefully curated with the highest quality of natural ingredients. Australian Kaolin Clay, Bentonite Clay & Australian Sea Salt will give your hair volume and texture and provide a light hold. Infused with Tasmanian Hemp Seed oil our Texture Spray not only provides fantastic volume and texture, but is also nourishing for the hair.  

Size: 125ml
Hold: Light-Medium hold
Shine: Matte

Scent: I N V E R E S K
Top: Cassis and Mandarin.
Middle: Lily of the Valley, Rose, Rosemary, Lavender and Thyme.
Bottom: Amber, Pine, Marine Ozone, Musk, Black Pepper and Oakmoss.
Application
Perfect for looser, more textured styles. Spray 5-10 pumps of Cub & Co. Texture Spray into towel-dried hair, blow dry hair into place. Apply more as needed. Apply a topper product for a more held together style.

Ingredients: Distilled Water, Kaolin, Bentonite, Sea Salt, Cannabis Sativa (Hemp) Seed Oil, Fragrance, Polysorbate80, Phenoxyethanol, Caprylyl Glycol & Sorbic Acid.