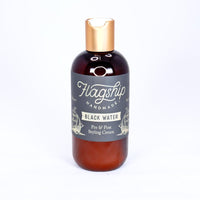 Flagship Black Water Pre/Post Styling Cream
Black Water: comes in a pump-type container, boasts both pre and post styling abilities, and leaves hair matte, smooth, and feeling fantastic once rinsed out. Want volume? You have it. Texture? You have it. Cleaner styling? Ditto.
Using a combination of high melt point vegetable waxes, kaolin clay, and activated charcoal, you get surprising hold while still being able to get texture with smaller amounts used and more clean styling as you continue to add additional pumps.
A perfect partner for any of our products as well, as it will add additional hold and washability to all of them.
Fragrance Notes: Mahogany, Oakmoss, Teakwood, and Neroli
Instructions: Apply a small pump to blowdried/towel-dried hair. If blowdrying, do so at this time to pre-style. Continue to add additional pumps as needed to meet the desired hold. Smaller amounts will give more texture; more will provide higher hold and cleaner styling.
Ingredients: Water (Aqua), Kaolin, Hydrogenated Castor (Ricinus Communis) Oil, PEG 40 Hydrogenated Castor Oil, Rice Bran (Oryza Sativa) Oil, Polysorbate 80, Polyethylene, PVP, Phenoxyethanol, Activate Charcoal, Aloe Extract, Sodium Polyacrylate, Fragrance, Sorbic Acid, Caprylyl Glycol.
8oz Amber Pump Bottle