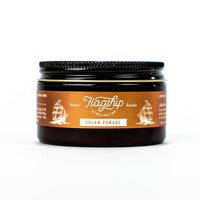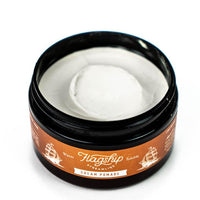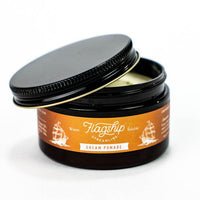 Flagship Streamline Cream Pomade
Super creamy scooping and easy application. Flagships goal for this product was to create something that is the best of both worlds: Whether styling slick and neat, or textured and loose, we have you covered. With the blend of waxes that we use, the product itself will hold in any temperature and is easily restylable, either with comb or by finger combing.
Flagship made this with Hemp Seed Oil to rehydrate and condition the hair so that hair feels soft and healthy after use. Tea Tree and Peppermint essential oils are used for the fresh and clean scent, but also for the cleansing and restorative properties for the scalp as well. 
Scent:
Tea Tree Mint (EO) - Blend of Tea Tree and Peppermint EO's; clean, crisp, that quickly mellows out and become almost neutral as the day goes on.
Hold: 
High hold. Because of the type of product it is, 'high hold' translates to a firm to heavy hold when done in a slick style; for textured, it comes out to the ability to hold volume and shape as you go through your day.
Sheen:
Matte to natural luster: Depending on the amount of product used, this can be adjusted. Due to the high wax content, it makes the product 'drier' and this translates to the sheen in the hair. 
Directions for use: Scoop a small amount into DRY palms and apply from roots to tip of hair. For slick styling, use between 2-5 scoops depending on hair type. For texture, use 1-2 scoops and blow-dry; once set, apply additional scoops to lock in hold. 
Rinses with water.