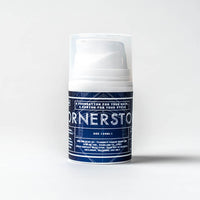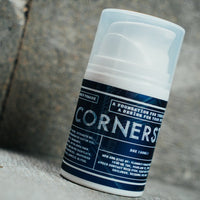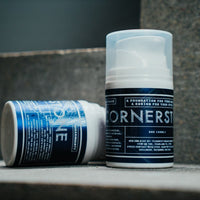 Flagship x ModernManTV Cornerstone
'A foundation for your hair, a design for you style.'
We are extremely happy and proud to bring you all this product. After working through the concept and formulation with Mike Smith of ModernManTV and Dauntless Grooming Co., we were able to make a pre-styler that is different from what we have seen on the market:
A gel-type pre-styler that provides foundation and hold across any products that you use with it. Be it an oil-based pomade, UWB pomade, clay, matte paste, cream, on and on, you will get more bang for your buck while using this to style. 
What it is:
A product for body, volume, and hold. 
What it is not: 
A traditional gel. It does not harden, does not add shine, and it does not necessarily give a large amount of texture (although with some hair types it does provide some).
Directions:
Use one pump, apply to dry or damp hair, and then blow-dry in. Add more as needed, and then post style with whatever product you decide to use. Nuff said.
2oz, White Airless Pump
Ingredients: Water, Ceteareth 20, PVP, PEG 40 Hydrogenated Castor Oil, Polysorbate 80, Fragrance, Phenoxyethanol, VP/VA Copolymer, Polyethylene, Sodium Polyactylate, Hydrogenated Castor Oil, Grapeseed Oil, Sorbic Acid, Caprylyl Glycol