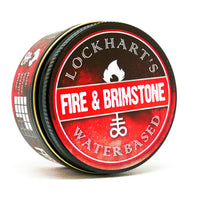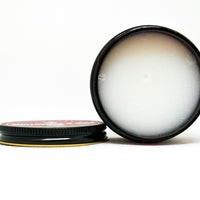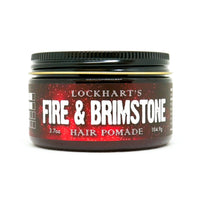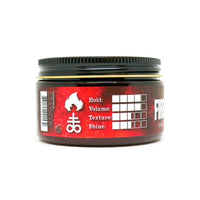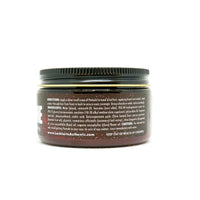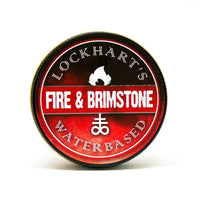 Lockhart's Fire & Brimstone Water Based
Fire and Brimstone season is back! Now available in the brand new Water Based Pomade formula with a firm hold, medium shine, and of course, the Fire and Brimstone scent you know and love. It is a similar formula to the all-new Paradox Pomade formula with a lower water ratio for slightly more hold and so the nutrients can soak in nicely, leaving your hair silky and smooth.
Pumpkin scents are great, but men want to play with fire.
Fire and Brimstone is a representation of the scent of the underworld. A place where demons lurk and ghouls haunt. Tortured souls forever burning into oblivion. 

So what does it actually smell like? Think of a burning fire pit with sweet top notes of charcoal and flames. It's unique, subtle, fresh, and masculine. You'll have to try it to find out.
HOLD: Medium/Firm
FINISH: Medium Shine
TEXTURE: Firm
SCENT: "Fire and Brimstone"
SIZE: 3.7 OZ

PRO TIP:
Work a small amount of product into ever so slightly damp hair from front to back. Apply small amounts until the desired hold is achieved. Use a comb or brush to style accordingly. Allow product to settle into the hair for a few minutes for additional hold. Too much water will decrease the hold and increase the shine.

INGREDIENTS:
Water, Ceteareth-20, Beeswax, PEG-40 Hydrogenated Castor Oil, PEG-7 Glyceryl Cocoate, PVP, Acrylates c10-30 copolymer, Polysorbate 20, Fragrance, Phenoxyethanol, Sorbic Acid, Shea Butter, Avocado Oil, Glycerin, Rosemary leaf extract, Bergamot Oil, Lime Oil, Clove Flower Oil.