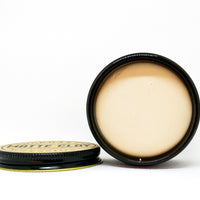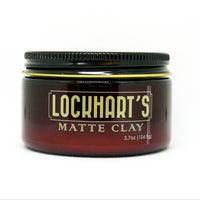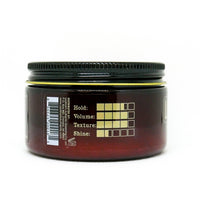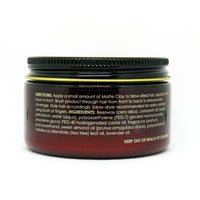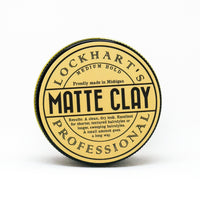 Lockhart's Professional Matte Clay
There are so many variations on Clay products on the market. Some suck up all of the moisture in your hair and leave you with an unhealthy dry look, others are far too greasy and tough to work with. Holds range from super heavy/high holding, gravity-defying, to light and wispy. Lockhart's Professional Matte Clay finds a happy middle ground to these extremes. It's truly a Medium holding Matte Clay which allows your hair to move naturally while holding its desired shape. The shine that's provided is a nice healthy matte finish. All it takes is a few small scoops of product to provide a nice textured hairstyle that's perfect for a night on the town.
HOLD: Medium/Firm
SHINE: Matte
TEXTURE: Thick/creamy
SCENT: Subtle notes of lavender, earthy moss, and musk. Not overpowering so it will blend well with colognes or desired fragrance.
SIZE: 3.7OZ
PRO TIP:
Work a small amount of product into blow-dried hair from back to front. Apply small amounts until the desired hold is achieved. First, blow-dry hair with medium heat into the desired shape, then, using the cold setting on the blowdryer, style the hair into the finished shape. The heat will allow the hair to move into place and give it memory so it will retain its shape. The cool setting will let the product soak into the hair providing a matte sheen. Hair will remain malleable all day and will be easy to restyle by simply running your fingers through your hair.

INGREDIENTS:
Beeswax (cera alba), Ceteareth-20, Kaolin, Petrolatum, Water (aqua), PEG-7 Glyceryl Cocoate, Propylene Glycol, PEG-40 Hydrogenated Castor Oil, Fragrance, Phenoxyethanol, Sweet Almond Oil, Polysorbate-60, Tea tree oil, Lavender oil.