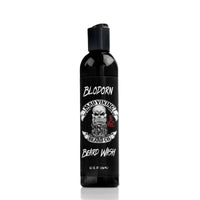 Mad Viking Blodorn Beard Wash
Coffee and Peppermint Scent!
[Blood-ORN]:  The blood eagle, a ritualized method of execution detailed in late skaldic poetry was meant to punish and invoke fear into one's adversaries.  Blodorn Beard Wash is scented with Therapeutic grade Peppermint, Coffee, and a touch of Pennyroyal essential oils resulting in a one of a kind experience for your beard.  Upon application you will immediately notice the peppermint waking up your skin while creating a cooling effect, all the while getting hints of fresh ground coffee beans.  You will notice more mild coffee undertones throughout the day as the Peppermint fades.  Blodorn is one of our heavier scents and is ideal for business meetings and late night pillaging alike. 
Blodorn Mad Viking's Beard Wash (sulfate free)(paraben free) offers a top to bottom clean and conditioning experience all in one! Providing a deep, all natural sulfate free clean, with a rich, conditioning finish for a soft, moisturized face and beard. Balanced for the skin's pH between 4.5 to 5.5 Contains naturally-derived conditioners that help prevent excessive stripping of the beards natural oils. Provitamin B5 improves hair elasticity and softness, which helps prevent breakage. Aloe and Jojoba softens and soothes the beard and skin. Viking beard tested and approved!
Ingredients: Water (Aqua), Cocamidopropyl Betaine, Decyl Glucoside, Castor Oil, Aloe barbadensis (Aloe) Juice Pro-Vitamin B5 Panthenol, Cetearyl Alcohol, Stearalkonium Chloride, Caprylic/Capric Triglyceride, Glyceryl Stearate, Phenoxyethanol, Jojoba Seed Oil, Xanthan, Tetrasodium Glutamate Diacetate