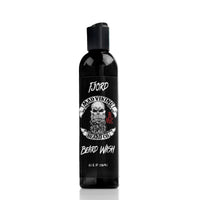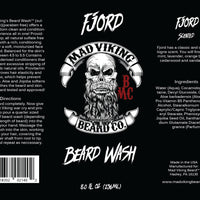 Mad Viking Fjord Beard Wash
Clean Cologne Scent!
[Fee-yord]:  Fjord, a long, narrow, deep inlet of the sea between high cliffs, as in Norway and Iceland, typically formed by submergence of a glaciated valley.  From the very first application our Fjord Beard Oil will have you ready to conquer the world.  Mad Viking proudly presents our newest scent in the arsenal!  Fjord is unlike any profile we've ever created.  It presents with a really crisp, clean cologne scent and maintains that profile throughout.  As a result of hundreds of hours of testing Fjord Beard Wash hangs around all day and is never overpowering.
Fjord Mad Viking's Beard Wash (sulfate free)(paraben free) offers a top to bottom clean and conditioning experience all in one! Providing a deep, all natural sulfate free clean, with a rich, conditioning finish for a soft, moisturized face and beard. Balanced for the skin's pH between 4.5 to 5.5 Contains naturally-derived conditioners that help prevent excessive stripping of the beards natural oils. Provitamin B5 improves hair elasticity and softness, which helps prevent breakage. Aloe and Jojoba softens and soothes the beard and skin.
Fjord is quickly becoming our best selling scent.  Order yours today!  Viking beard tested and approved!
Ingredients: Water (Aqua), Cocamidopropyl Betaine, Decyl Glucoside, Castor Oil, Aloe barbadensis (Aloe) Juice Pro-Vitamin B5 Panthenol, Cetearyl Alcohol, Stearalkonium Chloride, Caprylic/Capric Triglyceride, Glyceryl Stearate, Phenoxyethanol, Jojoba Seed Oil, Xanthan, Tetrasodium Glutamate Diacetate