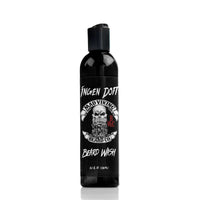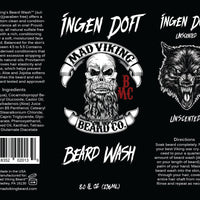 Mad Viking Ingen Doft Beard Wash
No essential oils added for Scent!
[Ing-en-dofft]: No Scent.  Don't let Fenrir track you down! Whether you're on the go or on a hunt, our Ingen Doft Beard Wash delivers all the qualities of our other oils, without the scent!  Ingen Doft Beard Wash is perfectly suited for hunters, health care professionals, and anyone else that doesn't prefer strongly scented products! 

Ingen Doft Mad Viking's Beard Wash (sulfate free)(paraben free) offers a top to bottom clean and conditioning experience all in one! Providing a deep, all natural sulfate free clean, with a rich, conditioning finish for a soft, moisturized face and beard. Balanced for the skin's pH between 4.5 to 5.5 Contains naturally-derived conditioners that help prevent excessive stripping of the beards natural oils. Provitamin B5 improves hair elasticity and softness, which helps prevent breakage. Aloe and Jojoba softens and soothes the beard and skin. Viking beard tested and approved!
Ingredients: Water (Aqua), Cocamidopropyl Betaine, Decyl Glucoside, Castor Oil, Aloe barbadensis (Aloe) Juice Pro-Vitamin B5 Panthenol, Cetearyl Alcohol, Stearalkonium Chloride, Caprylic/Capric Triglyceride, Glyceryl Stearate, Phenoxyethanol, Jojoba Seed Oil, Xanthan, Tetrasodium Glutamate Diacetate