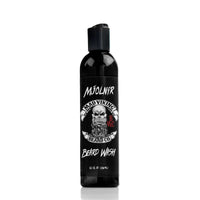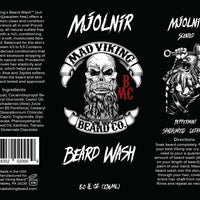 Mad Viking Mjolnir Beard Wash
Peppermint, Cedarwood, Sandalwood Scent!
[myawl-nir]:  Thor's Hammer.  Thor is the God of many things, including thunder, lightning, storms, oak trees, and above all the protection of humans.  A gift from Loki, the most powerful weapon in the universe, a hammer named Mjolnir.  It was capable of leveling mountains with a single blow.  Likewise, Mjolnir Beard Wash is the most powerful beard oil in the universe.  We have crushed in the scent of Peppermint, Cedarwood and Sandalwood to create one of the most popular scents on the market.  It applies with a mild dose of Peppermint to cool the skin as it invigorates your senses,  fading into smooth, woodsy after tones that last well into the day. 
Mjolnir Mad Viking's Beard Wash (sulfate free)(paraben free) offers a top to bottom clean and conditioning experience all in one! Providing a deep, all natural sulfate free clean, with a rich, conditioning finish for a soft, moisturized face and beard. Balanced for the skin's pH between 4.5 to 5.5 Contains naturally-derived conditioners that help prevent excessive stripping of the beards natural oils. Provitamin B5 improves hair elasticity and softness, which helps prevent breakage. Aloe and Jojoba softens and soothes the beard and skin. Viking beard tested and approved!
Ingredients: Water (Aqua), Cocamidopropyl Betaine, Decyl Glucoside, Castor Oil, Aloe barbadensis (Aloe) Juice Pro-Vitamin B5 Panthenol, Cetearyl Alcohol, Stearalkonium Chloride, Caprylic/Capric Triglyceride, Glyceryl Stearate, Phenoxyethanol, Jojoba Seed Oil, Xanthan, Tetrasodium Glutamate Diacetate