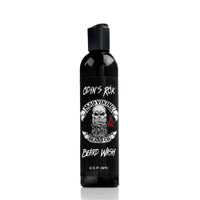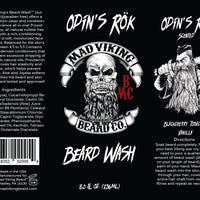 Mad Viking Odin's Rok Beard Wash
Black Cherry, Tobacco, Vanilla  Scent!
[Odin's Rök]: The smoke of Odin.  Odin's Rök Beard Wash is a Black Cherry and Tobacco scented beard oil that consists of Benzoin Resin, Black Cherry, and Tobacco absolute oils.  When applied, the scent begins with a bright sweet cherry which quickly fades into the perfect combination of cherry pipe tobacco.  After several hours the scent fades into a clean, smoky pipe tobacco, reminiscent of your grandfather's favorite pipe.  One of our top sellers since it's launch, Odin's Rök Beard Wash delivers a fantastic combination of fragrance and performance. 
Odin's Rök Mad Viking's Beard Wash  (sulfate free)(paraben free) offers a top to bottom clean and conditioning experience all in one! Providing a deep, all natural sulfate free clean, with a rich, conditioning finish for a soft, moisturized face and beard. Balanced for the skin's pH between 4.5 to 5.5 Contains naturally-derived conditioners that help prevent excessive stripping of the beards natural oils. Provitamin B5 improves hair elasticity and softness, which helps prevent breakage. Aloe and Jojoba softens and soothes the beard and skin. Viking beard tested and approved!
Ingredients: Water (Aqua), Cocamidopropyl Betaine, Decyl Glucoside, Castor Oil, Aloe barbadensis (Aloe) Juice Pro-Vitamin B5 Panthenol, Cetearyl Alcohol, Stearalkonium Chloride, Caprylic/Capric Triglyceride, Glyceryl Stearate, Phenoxyethanol, Jojoba Seed Oil, Xanthan, Tetrasodium Glutamate Diacetate