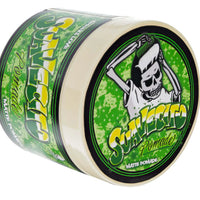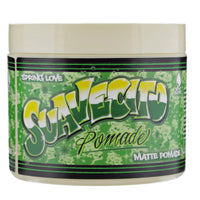 Old cars, clean bikes, low trucks, close friends, and good times. This Matte Pomade will give you that feeling of the good old days when we used to kick it with the homies and homegirls for nights of endless fun. We know you've probably been sitting in your "canton" waiting for a new beginning. Well, here it is in the form of one of the freshest smelling pomades we've developed. With an homage to old school urban art, we've made a batch that will have the homies asking, "What smells so Firme?"

Suavecito Matte Pomade is a unique formula that can be used for looser, more relaxed looks as well as polished hairstyles. This pomade is perfect for those who want to keep some natural wave or curl in their style. It has a medium hold, a healthy, matte finish and it washes out completely with just water.

Directions: Warm a small amount of product between hands and apply evenly throughout dry hair. Style with fingers for a more natural look or use a comb or brush for a more finished style. Use water sparingly for a true matte look.

Fragrance Profile: This scent will bring you back to your favourite cologne. Masculine base notes of musk, amber, and leather are complemented by light floral hints of jasmine and lavender. Top citrus notes of grapefruit and orange balance this musky fragrance.

Limited edition fragrance and artwork
Medium hold and healthy matte finish (no shine)
Works on most hair types
4 oz (113 g)
Made in USA