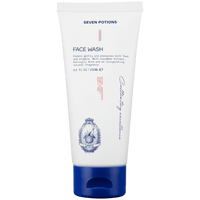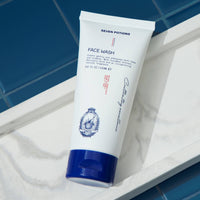 Face the World with Confidence
Seven Potions Face Wash will help you put your best face forward, every day. A unique, formula, crafted for the modern gentleman, our Face Wash is designed to rid your skin of dirt, unwanted oils, and urban pollutants while helping to maintain a soft, smooth, and hydrated appearance.
Designed to be gentle for sensitive skin, yet able to clear away the day's debris from its surface, our Face Wash works for a variety of skin types and needs.
A Necessity with a Touch of Luxury
Using Seven Potions Face Wash one to two times daily is a much-needed step to maintain your skin's moisture, hydration, and healthy appearance.
Rinsing your face with water may feel refreshing, but it does little to scrub away dirt or properly maintain your skin's health.
Likewise, using regular soap or body wash can be quite harsh, leaving skin dry or irritated. The wrong product can even cause skin to overproduce sebum, leading to an oily appearance and acne breakouts.
By using Seven Potions Face Wash, the right product for the job, you'll deliver a level of luxury that your skin deserves.
Distinctively Designed
At Seven Potions, we know the skin on your face is more delicate than other parts of your body yet remains vulnerable as it is exposed all day long.
But just as a gentleman would never wash his trousers with hand soap nor his vehicle with laundry detergent, neither should he use whatever's around for the skin on his face. What's needed is something strong enough to cleanse while doing so with a delicate touch.
Seven Potions Face Wash has you covered. Backed by laboratory analysis and testing, this formulation is designed to be kind on skin yet tough enough to get the job done.
What's on the Inside Does Matter
The ingredients we selected to go into our Face Wash were chosen carefully to offer the best experience to modern gentlemen everywhere.
Natural and biodegradable cleansing ingredients were chosen for their mild touch yet proven ability to remove dirt and oil. We've also included hardworking hydrators, such as Cocoyl Proline, and ingredients with anti-inflammatory properties, like Cucumis Sativus (Cucumber) Fruit Extract.
Together, they work to deliver what we know the modern gentleman needs: A Face Wash capable of keeping his face clear and healthy so he can focus his attention on the parts of his life that need him most.