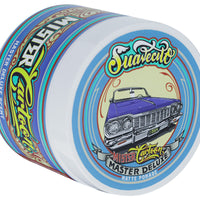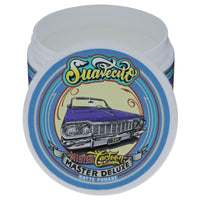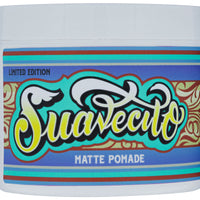 SUAVECITO X MISTER CARTOON MATTE POMADE
This collectible Suavecito X Mister Cartoon Matte Pomade is designed with original artwork by the famed Mister Cartoon and will feel like you're taking a piece of Cali home with you. Stamped right on top is a quintessential L.A. culture classic...'64 Chevy Impala. Street cred. not included. This Matte Pomade gives you a medium hold with a low-to-no-shine matte finish. Use this product when you want a messier, more textured, natural looking style. It glides easily into hair and washes out easily at the end of the day with just water.  

4 oz. (113 g)
FRAGRANCE PROFILE: Top notes of ripe green apple and lime indicate the cold season has come to a close. Middle notes of fresh jasmine and violet remind you of a bloomed and passing spring. Base notes of sandalwood and patchouli let you know that summer has arrived and the sunsets in Cali are second to none.