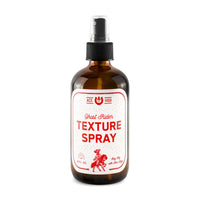 Ace High Co - Ghost Rider Texture Spray
Your go-to grooming product for catching waves, rays or devil herds.
Ghost Rider Texture Spray is a natural sea salt spray that adds texture and volume and leaves you looking like you just left the beach. The lightweight spray gives your hair definition, manageability and an effortlessly cool spent-all-day-in-the-surf-and-sand look.
INGREDIENTS
Water, Aloe Leaf Juice, Sea Salt, Epsom Salt, Glycerin, Witch Hazel, PEG 40 Hydrogenated Castor Oil, Polysorbate 20, Eucalyptus Essential Oil, Fragrance Oil.
 All-natural ingredients
 Handmade in Rochester, MI, USA
Application Technique: The Two-Step
Spray evenly throughout hair (wet or dry).
Look swell
Stay fly with Ace High.