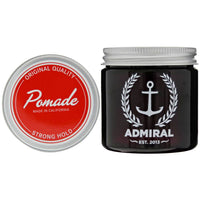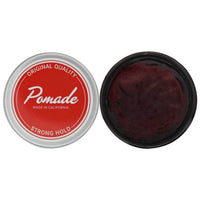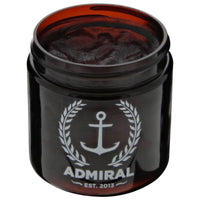 CLASSIC POMADE - STRONG HOLD
Admiral Men's Grooming Classic Strong Pomade is one of the highest rated Men's Pomades on the market. Designed and manufactured in Los Angeles, CA, our proprietary formulation was made to go in easy with it's unique creamy consistency. Our natural hold has been celebrated in the community as bringing the best aspects of a traditional pomade to the water-based genre. Easy style and washes out with just water.
STRONG HOLD: Designed to have a strong natural hold, the Admiral Classic Pomade prevents helmet head but keep every hair in place.
SUBLTE COCONUT FRAGRANCE: All Admiral's Products are made to compliment not over power. Our pomades contain the perfect amount of natural aromas that won't over power your natural musk.
EASY STYLABILITY: No more helmet head! Our proprietary formula helps achieve any classic men's hairstyle. You can simply add water and restyle throughout the day.
ORGANIC BEESWAX + NATURAL INGREDIENTS: Made 100% with Plant based preservatives in small batches in Los Angeles, California. 

HIGHLY RATED: One of the highest rated pomades on Amazon and the marketplace. We've sold over 20,000 units and received amazing reviews from the pomade community.
INGREDIENTS - Water, Ceteareth-25, Polyvinylpyrrolidone, PEG-7 Glyceryl Cocoate, PEG-40 Hydrogenated Castor Oil, Glycerin, Beeswax, DMDM Hydantoin, PEG-8 Dimethicone, Polysorbate-20, Fragrance (Parfum).