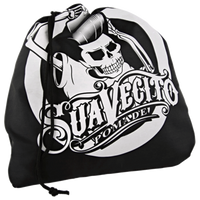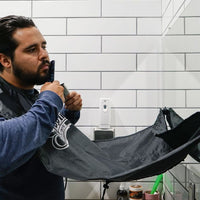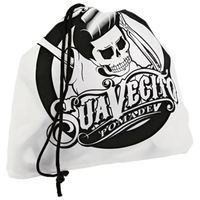 This Beard Cutting Cape is the answer to all of your issues with mess after each trim or cut. Trimming your facial hair always creates a mess no matter how careful you are or how slowly you move. The sink and counter in your washroom is always covered and let's not mention how much lands on the floor.
Our Cutting Cape will make life and clean-up a whole lot better and easier without adding any extra crazy steps. It simply catches all the cut hair from your beard so it stays in one place allowing you to toss it in the trash in one fell swoop.
Directions: Wear cape around your neck and attach suction cups to the mirror in front of you. Cut your hair and allow it to fall into the cape. When done tap the underside of the cape to collect all hair in one place. Unhook cape from mirror and place suction cups together forming a funnel for the hair. Dispose of hair into your trash can.
Makes clean up easy and messes a thing of the past
Will save you time in the washroom
Use it over and over again
Cape folds into itself into a compact bag for easy storage and travel
Velcro neck for comfort