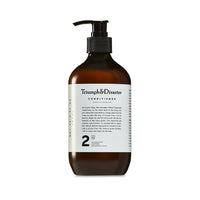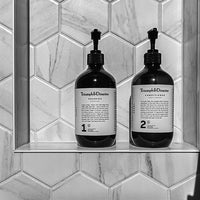 Triumph & Disaster - Conditioner
Yin to your Yang, this Cucumber & Mint fragranced conditioner is the other half of the story, the part where the tanned hero swings down from the trees to save the day. 
Silicone free, rich in Keratin, Argan oil and fortified with the natural benefits of the Colza plant, this hydrating and calming conditioner is engineered to repair, detangle and destress modern hair, whilst delivering natural volume & shine. Like a vision from the future; green science, rich in logic and loyal to the end.
Triumph and Disaster 100% Natural, detangling conditioner delivers a lightweight nourishing formula that restores natural shine and hydrates hair without unnecessary chemicals and silicones. Proving nature knows best, it always has and always will.
1/ Natural hydrating conditioner – a non oil formulation that will not overload the scalp with unnecessary oils and unwanted build up.
2/ Gentle detangling conditioner, the Colza plant is a natural replacement for silicone based conditioners, it naturally detangles hair leaving it feeling silky and clean.
3/ Tazman Pepper, treats, calms, nourishes & revitalises the scalp. Working in combination with Argan oil and Sunflower seed Tazman Pepper is all kinds of wunderbar.
4/ SLS & SLES free, No Silicones, No Parabens – that's right its natural and free of the traditional bad guys. You're welcome.
5/ Our bespoke Cucumber and Mint fragrance is both natural and fresh, like a mint julep on Sunday afternoon.
Hydrolysed Keratin – Keratin gives structure and protection to our hair and cells whilst also helping injured cells to heal and grow. Sourced from NZ Wool, Keratin protects brittle hair, repairs, strengthens and nourishes.

Tazmen Pepper - (Tasmannia Lanceolata Fruit Extract) Sourced from Tasmania and was traditionally used by native Aborigines to treat external infections and inflammation when applied topically, perfect to soothe and calm an irritable scalp. 

Colza plant – (Behentrimonium Methosulphate) is a natural silicone substitute that acts to detangle and release emotionally wrought, tortured hair. It's safe and natural making it gentle enough to use everyday.
Best used in combination with Triumph & Disasters 100% natural Acacia and Gypsophila shampoo.
LIST OF INGREDIENTS
Aqua (Water), Behentrimonium Methosulphate, Cetearyl Alcohol, Cetyl Alcohol, Glycerine, Dehydroacetic Acid, Benzyl Alcohol, Tasmannia Lanceolata Fruit (Tazmen Pepper) Extract, Guar Hydroxypropyltrimonium Chloride, Hydrolysed Keratin, Parfum (Natural Fragrance), Argania Spinosa (Argan) Oil, Phospholipids & Helianthus Annuus (Sunflower) Seed Oil, † Amyl Cinnamal, †Hydroxycitronellal, † d-Limonene, † Benzyl Salicylate. (†Component of Natural Fragrance)