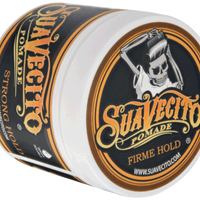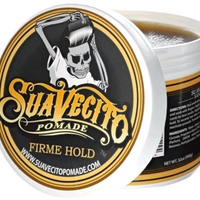 When you take the original formula and kick it up a notch you get this, Firme Hold Pomade. This is a seriously strong and powerful hair styling product for when your hair demands a little more. This pomade works great at making your hair obey your trickiest commands without question. Any hairstyle will be easily obtainable with this fine pomade, side parts, pomps or slickbacks will be easy to get. Even though this formula is extra strong it is still easy to scoop out and apply, combing into your hair with ease. It has the same great fragrance and base ingredients as our original formula. Washes out super easily with water and sets with a high firmness and medium shine.
Directions: For less shine apply to dry hair and for more shine apply to damp hair.
Scoop about a quarter sized amount out and rub between fingers and palms warming the product. Work into hair roots up evenly applying the pomade. Comb or brush to achieve your style. Optionally use hairdryer to lock in your look. Washes out with just water in the shower at the end of the day.
Firme all day hold
Medium shine
Removes easily with just warm water
Never flakes unlike gels
No harsh chemicals drying your hair and scalp out
Suavecito Pomade was started with just one pomade and it's goal was to create a product that worked very well at a price anyone could afford. It has been a crazy ride to where we have gotten to today but our core principles have not changed. Through our full line of pomades, hair styling products, professional barbering grade products, clothing, women's line and our premium line we still produce affordable high quality items that anyone is able to bring into their home. We did not want to create a pomade that would cost more than a haircut. Suavecito's goal is to make sure you are looking and feeling your best every day so that you can go out there and further yourself in life without any hesitation.
Available in 4oz container, or the Barber only 32oz Tub. Made in USA. Ask your rep how to get 1/2 price on 32oz back bar tubs.