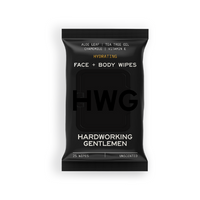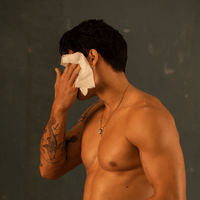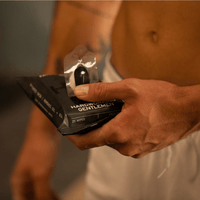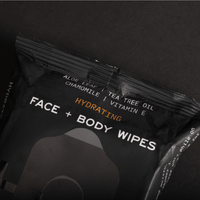 Hardworking Gentlemen Hydrating Face + Body Wipes
Hydrating Face + Body Wipes that keep you clean and moisturized while on the go. Perfect for your active lifestyle, like a shower in a wipe for post-workout, travel, or an afternoon refresh. These unscented biodegradable bamboo wipes are earth and body-friendly with a refreshing blend of active ingredients that remove oil and dirt & hydrate your skin.

INGREDIENTS
Aloe Vera + Tea Tree Oil + Chamomile + Vitamin E
This combination of refreshing active ingredients leave you feeling fresh & clean anytime, anywhere. Aloe vera helps soothe and moisturize your skin, tea tree prevents oil build-up reducing acne and trapping moisture, chamomile reduces inflammation and bacteria by protecting the skin from free radical damage, and vitamin e supports your immune system, cell function, and skin health.