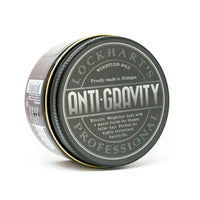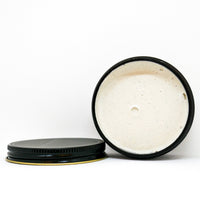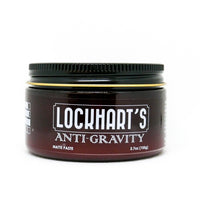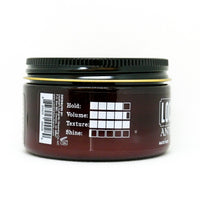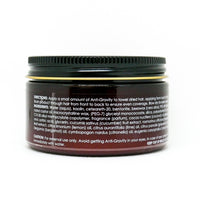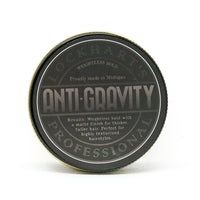 Lockhart's Anti-Gravity Matte Paste
Anti-Gravity was developed over a period of two years. It has always been the white whale to my Ahab. I've been chasing this formula, trying to achieve what I thought was impossible for a very long time.
I finally caught her.
I've always wanted to try creating a product that is a hybrid of several different product types and that's exactly what we did here. Anti-Gravity is a Matte Paste/Clay/Fiber/Cream Hybrid all rolled into one very unique formula. It has the consistency of a Light Fiber, applies like a cream, holds like a paste, and provides the texture and volume of a clay. 
Unique Characteristics:

Water-Based: Fully water soluble for hassle-free performance.
Silica: Absorbs into the hair and plumps it for a thicker/fuller look.
Bentonite and Kaolin blend: Adds tons of volume and texture.
Acrylates: Provides strength and rigidity for all-day hold.
Coconut Oil: Provides nutrients to leave hair soft and strong.
Cucumber fruit extract: Repairs and strengthens hair.
Rosemary leaf extract: Stimulates hair follicles to keep blood flow strong.
Natural beeswax: Provides hold and locks in moisture.

FIRM. MATTE. WEIGHTLESS.
Water-Based / Water Soluble
PERFORMANCE:
HOLD: Firm/Weightless
SHINE: True Matte
TEXTURE: High Texture/ High Volume
CONSISTENCY: Creamy/ Easy to apply
SCENT: Fortuna
Top

 

: Bergamot, Elemi, Sichuan Pepper, Lemon Verbena
Mid

 

: Pink Pepper, Vetiver, Violet leaf, Green notes
Base

 

: Patchouli, Ambroxan, Sandalwood, Ambergris

SIZE: 3.7OZ
PRO TIP:
Work small amounts of product into the hair at a time. The more product you add the stronger it will become (to the point that it will become too strong). Apply two dime-sized scoops to hair from back to front, ensuring even coverage. Blow-dry product into the hair, allowing it to set up before adding more product. If more hold is desired, apply another dime-sized scoop and repeat.
INGREDIENTS:
Water, Kaolin, Ceteareth-20, Bentonite, Beeswax, PEG-40 Hydrogenated Castor Oil, Microcrystalline Wax, PEG-7 Glyceryl Cocoate, Silica, Polysorbate 20, Acrylates C10-30 Alkyl Methacrylate Copolymer, Coconut Oil, Fragrance, Phenoxyethanol, Sorbic Acid, Glycerin, Cucumber Fruit Extract, Rosemary Leaf Extract, Lemon Oil, Lime Oil, Grapefruit Oil, Bergamot Oil, Citronella Oil, Clove Flower Oil.