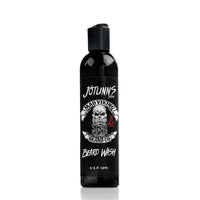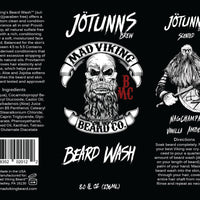 Mad Viking Jotunn's Brew Beard Wash
Nag Champa, Vanilla, Amber Scent!
[yōtən]: In Norse Mythology, a Jötunn was a member of a race of nature spirits with superhuman strength, and were associated as giants and exceedingly beautiful.  Jötunn's Brew Beard Wash is a unique blend of essential oils that consists of Benzoin Resin (Styrax tonkinesis), Cardamom oil, Neroli Oil, Sandalwood and Amber Oil, resulting in a combination of oils that is very earthy, and  reminiscent of Nag Champa.  With every use you'll be transported to a simpler time, a time of giants, wilderness, and a time of magic. 
Jötunn's Brew Mad Viking's Beard Wash (sulfate free)(paraben free) offers a top to bottom clean and conditioning experience all in one! Providing a deep, all natural sulfate free clean, with a rich, conditioning finish for a soft, moisturized face and beard. Balanced for the skin's pH between 4.5 to 5.5 Contains naturally-derived conditioners that help prevent excessive stripping of the beards natural oils. Provitamin B5 improves hair elasticity and softness, which helps prevent breakage. Aloe and Jojoba softens and soothes the beard and skin. Viking beard tested and approved!
Ingredients: Water (Aqua), Cocamidopropyl Betaine, Decyl Glucoside, Castor Oil, Aloe barbadensis (Aloe) Juice Pro-Vitamin B5 Panthenol, Cetearyl Alcohol, Stearalkonium Chloride, Caprylic/Capric Triglyceride, Glyceryl Stearate, Phenoxyethanol, Jojoba Seed Oil, Xanthan, Tetrasodium Glutamate Diacetate