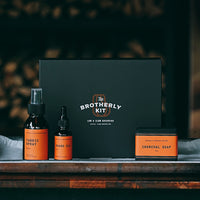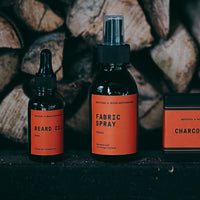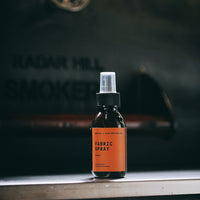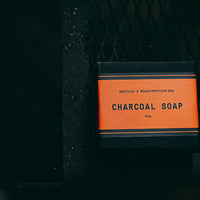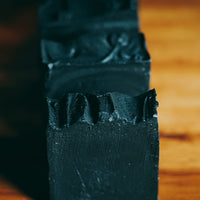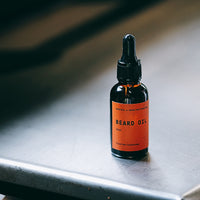 Mentega The Brotherly Kit
A Texas-style barbeque joint meets men's grooming.  Enter The Brotherly Kit, a trio of head-to-toe formulations inspired by the art of barbequing and barbering. The Brotherly Kit, at your service.
FABRIC SPRAY
Freshen your clothing after a good ol' smoky meal.
Shake well before use. Spray two to four pumps from 15cm away onto garments or furnishings. Allow garments to dry before wearing. This fabric spray is not suitable for white-colored fabrics or garments. Avoid contact with eyes.
Ingredients: Aqua, Hamamelis Virginia (Witch Hazel) Extract, Sodium Benzoate, Essential Oils
Product Quantity: 100ml
Scent: Floral Mint

BEARD OIL
For smaller beards, rub two to three drops in palms, apply upwards into facial hair and skin underneath. Use five to eight drops for larger beards. Shape as desired after application.
Ingredients: Castor Oil, Jojoba Oil, Grape Seed Oil, Coconut Oil, Olive Oil, Sweet Almond Oil, Argan Oil, Vitamin E Oil, Essential Oils
Product Quantity: 30ml
Scent: Spicy Citrus
CHARCOAL SOAP
Lather soap between hands with water, and apply generously to face and body. Rinse off with water. Keep the bar dry when not in use. This soap is gentle enough to use every day.
Ingredients: Aqua, Apricot Kernel Oil, Coconut Oil, Shea Butter, Olive Oil, Castor Oil, Sweet Almond Oil, Beeswax, Activated Charcoal Powder, Sodium Benzoate, Sodium Lactate, Essential Oils
Product Quantity: 120g
Scent: Fresh Mint