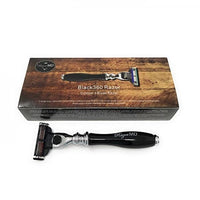 RAZOR MD BK360 Razor -3 blade
Perfectly Balanced and Weighted.
The BK360 is the flagship razor, first we introduced as RAZOR MD.
A modern and iconic look, it's perfect for beginners or experts alike.
The ideal razor for reliving that nostalgic, barbershop shave experience with a modern twist.
Compatible and comes with a Gillette® Mach3™ blade. Replacement blades sold at all retailers worldwide.