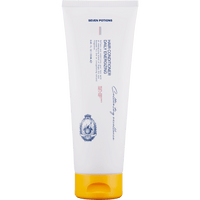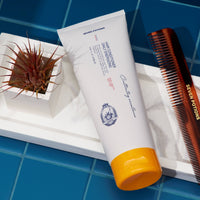 Seven Potions Hair Conditioner Daily Energizing
Embrace Healthier Hair
Seven Potions Hair Conditioner is essential for every gentleman, regardless of hair length or type. Every time you wash your hair, you risk stripping it of its natural oils. Our Conditioner is designed to restore moisture to your hair, while increasing its smoothness and detangling longer locks so when you step out of the shower, you're left with healthier hair that is easier to comb and style.
An ideal second step in your hair care routine following a rinse and wash with Seven Potions Shampoo, the deep-conditioning and regenerative ingredients in our special formula will replenish hydration and moisture to both hair and scalp. A distinctly masculine aroma best described as fresh and musky, Seven Potions Conditioner will leave your hair feeling nourished and ready for the day ahead.
You Can't Skip This
What happens when you skip using Seven Potions Conditioner? You risk leaving your hair brittle, susceptible to tangles, and prone to breaking. It will be less healthy and also duller. Your scalp below may become dry and irritated. However, when you add our Conditioner to your shower routine, you'll soon find out the benefits of this specially designed formula and none of these issues will bother you again.
Hair that is more robust and easier to brush or comb, thanks to ingredients that detangle and promote hydration, will see less breakages. That means a fuller head of hair. Split ends will be a thing of the past. Before long you'll find less static frizz and flyaway strands, also making it easier to style and stay how you want it the whole day through.
If you've never used conditioner before, now's the time to start. If you've yet to find the right one, rest assured that Seven Potions Conditioner is it. A little will go a long way and after a thorough rinse you'll wonder how you ever made do without. You'll never skip using it again.
Ingredients With Purpose
The natural, vegan, cruelty free ingredients that make up Seven Potion Conditioner were all carefully selected and come together to deliver a moisturising treatment that your hair will be grateful for. No fillers here, just purposeful choices to help you achieve excellence in hair health and care.
Panthenol (Pro Vitamin B5) increases the water content of your hair while promoting better elasticity, helping it to stay hydrated, strong, and looking healthy. Along with Shea Butter Ethyl Esters and Cocos Nucifera (Coconut) Oil, you'll feel the restoration of revitalizing moisture to your hair and scalp, resulting in a luxurious shine, and see the retreat of dandruff as your scalp is nourished.
A plant-derived moisturiser that will help to condition your hair and deter static, Brassica Alcohol has a misleading name. Being a fatty alcohol, it won't dry hair, and will instead condition and soften, increasing manageability. Combined with Brassicyl Isoleucinate Esylate, which delivers superior conditioning performance, you will never fear tangles again.
We've also added Pisum Sativum (Pea) Peptide to strengthen hair follicles, which may promote hair growth and slow hair loss in some men. This same ingredient also provides a rich fullness to hair strands themselves, resulting in a fuller, softer head of hair.
Suitable for multiple hair types, Seven Potions Conditioner has been designed with purpose to work for you.