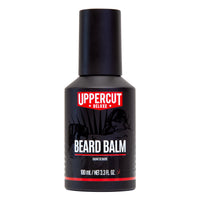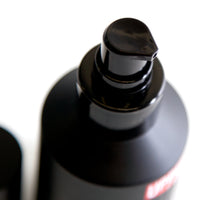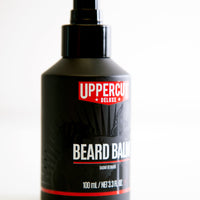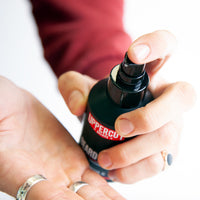 Uppercut Deluxe Beard Balm
Uppercut Deluxe Beard Balm has been created to keep even the burliest beards in shape, specially crafted for all the beardos out there.

Designed for medium to long beards, Uppercut Deluxe Beard Balm is a lightweight product that spreads easily and adds light control to help structure and style beards.

Uppercut Deluxe Beard Balm gently conditions the beard, adding a healthy shine without becoming greasy.

Topped off with a subtle coconut fragrance, Uppercut Deluxe Beard Balm is a must for a well-kept beard.
Hold- A light hold allows for controlled styling
Finish- A Non-oily moisturizer
Hair type-Suitable for medium to long beards
Size: 100ml/Net 3.38 fl. Oz.
Water-based
Description
With just the right amount of control and shine, Uppercut Deluxe Beard Balm will keep your beard shaped and controlled, reducing those annoying flyaway's while keeping your dapper and distinguished look in place. No one likes a shiny, greasy beard after all.  The best bit, your beard will be left feeling nourished and moisturized.
Beard Balm Use Instructions
Apply to a clean, dry beard. Use a thumbnail-sized amount of product, spread evenly across both palms and fingertips. Start by using your fingertips to work the product into the hair around the jawline and cheek area, then use long strokes with your palms to shape and apply the product to the length of your beard.
Beard Balm History
Growing a stylish beard is no easy task. It requires regular maintenance to stay looking wholesome and manly, with some serious days of dedicated stroking, massaging and fondling before the desired profile is achieved. To many, they are the ultimate fashion accessory, feared and revered alike by women (and men) across the globe.
Believe it or not, men with beards are actually sensitive souls, prone to itchy skin, flyaway hairs and those tricky little ginger ones ' a long story short, much like the hairs on your head, beards need care and attention to keep looking good.